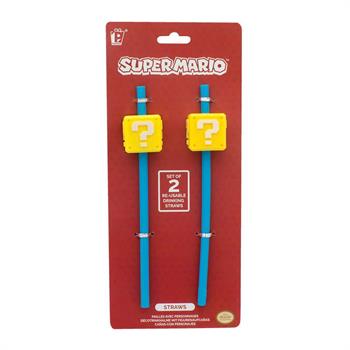 Product information
Hit pause, stop what you're doing, and enjoy a refreshing drink with a Super Mario Drinking Straw. This pack of two reusable drinking straws feature Question Block toppers and make the perfect gift for lovers of the Super Mario franchise as well as retro gaming in general. Next time your on an adventure to rescue Princess Peach from the clutches of Bowser and his henchmen, be sure to take this cute Super Mario Drinking Straw with you.
One of the most popular and instantly recognisable video game characters of all time, Mario first appeared in the iconic 1981 arcade game Donkey Kong under the name 'Jumpman'. Since then, Mario has become a legend within popular culture and has been a defining figure not just for Nintendo, but for the whole gaming industry. Since hitting the big time with Super Mario Bros. Mario has had huge success with other instalments such as Super Mario Galaxy, Super Mario 3D World and the hugely popular racing spin-off Super Mario Kart.
These Super Mario Drinking Straws are officially licensed Super Mario products.