 Rick & Morty Operation Phoenix Energy Drink 355ml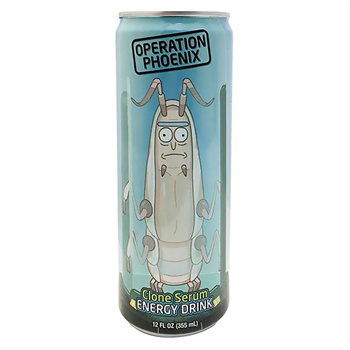 Product information
Fans of Rick & Morty will be familiar with Operation Phoenix, one of Rick's crazy experiments, the effects of which are seen in several episodes of the show! This sweet "Clone Serum" energy drink features a cloned Rick when he woke up in the body of a shrimp (in a fascist world of course)! This energy drink is great for fans of Rick & Morty and will look great on your shelf as a collector's item!
Imported from the USA.
Water, High Fructose Corn Syrup, Citric Acid, Sodium Citrate, Taurine, Natural Flavour, Caffeine, Potassium Sorbate (preservative), Potassium Benzoate (preservative), Ginseng Root Extract, Guarana Seed Extract, Inositol, Niacinamide (Vitamin B-3), Calcium D Pantothenate (Vitamin B-5), Pyridoxine Hydrochloride (Vitamin B-6), Cyanocobalamin (Vitamin B-12). (Contains One or More of the Following: Gum Acacia, Glycerol Ester of Wood Rosin, Red 40, Blue 1). Not Recommended for Children, People Sensitive to Caffeine, Pregnant Women or Women Who are Nursing.