 Pokemon TCG S&S 6 Chilling Reign Elite Trainer Box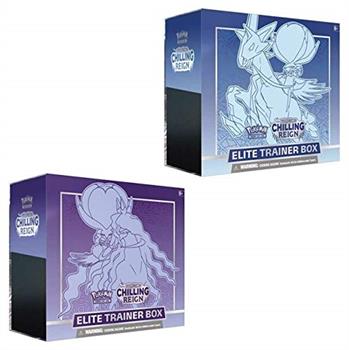 Product information
Seize the advantage with Pokemon of the frozen lands, including the powerful Ice Rider Calyrex VMAX and Shadow Rider Calyrex VMAXâplus the Galarian forms of Articuno, Zapdos, and Moltresâin Sword & ShieldâChilling Reign! Phantom hauntings, howling blizzards, and wild battlesâexpand the realms of your Pokemon strategy with new powers and new possibilities. Press on despite ghostly opposition, and claim total victory in the land of spectral snow with the Pokemon TCG: Sword & ShieldâChilling Reign expansion!
This Elite Trainer Box contains:
8 Pokemon TCG: Sword & Shield - Chilling Reign booster packs
65 card sleeves featuring Shadow Rider Calyrex
45 Pokemon TCG Energy Cards
A player's guide to the Sword & Shield - Chilling Reign expansion
A POkemon TCG rulebook
6 damage-counter dice
1 competition legal coin-flip dice
2 acrylic condition markers
A collector's box to hold everything, with 4 dividers to keep it organised
A code card for the Pokemon Trading Card Game Online
Each booster pack contains 10 cards from the Chilling Reign expansion, 1 basic energy and a code to redeem on Pokemon TCG Online
There are several styles available within this assortment and unfortunately it is not possible to request which one you would prefer.