 Pokemon 25th Celebration Charmander Plush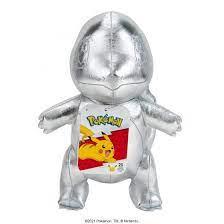 Product information
• This Special Silver 25th Anniversary Plush is only available in 2021!
• This Silver 8 Inch Charmander plush is the perfect addition to any Pokémon fan's collection!
• The style of this Charmander plush is inspired by smash-hit Pokémon Animated Series!
• Gotta Catch 'Em All!™
• Suitable from 2 years.