 Marvel Avengers Infinity War Lenticular Coasters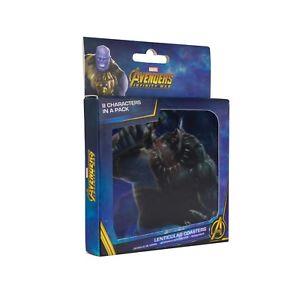 Product information
Protect your surfaces with these amazing Marvel Infinity War Lenticular Coasters and watch as they swap between two characters as you walk by. With 8 different coasters to collect overall, each pack contains 4 coasters, all of which feature two characters depending what angle you're at. Be joined on your next tea-break by some of your favourite Marvel Avengers Infinity War characters including Spider-Man, Thanos, Groot, Gamora and more. This makes the perfect gift for lovers of the Avengers, Guardians of the Galaxy and the Marvel Avengers Infinity War movie.
The 19th addition to the blockbuster franchise sees the largest ensemble cast yet for a Marvel film, with the Avengers teaming up for the first time with the Guardians of the Galaxy. The film also celebrates the 10th anniversary of the Marvel Cinematic Universe, meaning demand for Avengers themed gifts and product will be as high as ever.
The Marvel Infinity War Lenticular Coaster is an officially licensed Marvel product.