 POP Marvel: Dr Strange Multi Mad - Master Mordo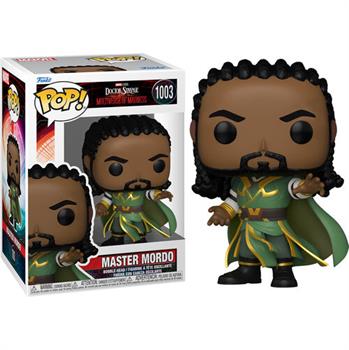 Product information
Have you ever wanted to explore the mystical side to Be More Geek? If that is a yes, then you have come to the right place. Discover our spell-binding range of Doctor Strange Multiverse Of Madness Funko Pops and gifts!

Created by comic-book writer Stan Lee and artist Steve Ditko, the character of Stephen Strange first appeared in the Marvel Comics title Strange Tales #110 in July 1963. Marvel Studios introduced the world to Doctor Strange in 2016, with actor Benedict Cumberbatch taking on the leading role. We see Strange's tale carry on in Doctor Strange Multiverse Of Madness (2022).

This is undoubtedly the best gift for Doctor Strange fans – the ideal treat for any special occasion, whether that be a birthday, Christmas, or any other event amongst the horizon.
This Marvel Doctor Strange and the Multiverse of Madness Master Mordo Funko Pop! Vinyl Figure comes packaged in a window display box and measures approximately 3-3/4 inches tall.